TCET (Transitional Coverage of Emerging Technologies)
Transitional Coverage of Emerging Technologies (TCET) is a forward-thinking initiative, aimed at creating a clear and streamlined pathway for coverage of new and innovative medical technologies. These developments promise to enhance the care available to Medicare patients, addressing areas where current therapies may fall short. With TCET, we're striving to empower the innovation ecosystem and facilitate rapid access to these breakthrough technologies. The Centers for Medicare & Medicaid Services (CMS) are instrumental in this endeavor, collaborating with industry stakeholders to evolve TCET into a beneficial alternate pathway for emerging devices and diagnostics.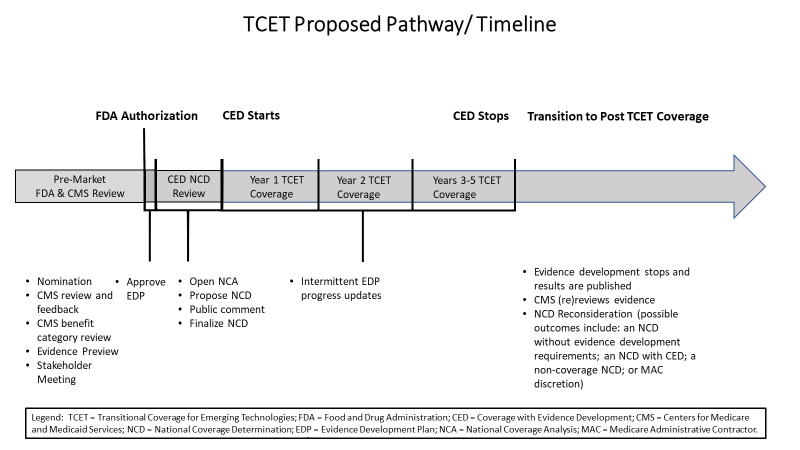 TCET Navigation Assistance
As TCET is a new and evolving initiative, navigating the complexities of the system can be a challenge. Our team of experts can guide you through the TCET process, helping you understand the nuances of the program and how it can be leveraged to your advantage.
Expedited Pathway Consultation
Our consultants can provide expert advice on how to use the expedited pathway provided by TCET to gain coverage and payment for emerging devices and diagnostics. We can help you understand how to opt-in and what evidence needs to be developed to facilitate a swift and successful process.
Regulatory Guidance
We offer comprehensive regulatory guidance to help you comply with all the rules and requirements set out by CMS and FDA. Our team stays up-to-date with the latest developments in TCET and other regulatory programs, ensuring you are always compliant and prepared for any changes.
Evidence Development Support
Our consultants can help identify any evidence gaps in your device or diagnostic submission and develop a comprehensive evidence plan to address these gaps. With our support, you can ensure that your technology is well-supported by robust evidence, enhancing its chances of being covered under TCET.
Real-World Data Collection
We can assist with the collection and analysis of real-world data and evidence. By monitoring the performance of your technology in real-world settings, we can help you understand its true impact and potential, informing future development and improving patient outcomes.
Cost-Effectiveness Analysis
Our team can conduct a detailed cost-effectiveness analysis of your technology, demonstrating the potential savings and health benefits for Medicare. This can be an essential part of your TCET submission, demonstrating the value of your innovation to CMS.
Contact
We'd love to hear from you! Whether you have questions, feedback, or are interested in partnering with us, don't hesitate to reach out.